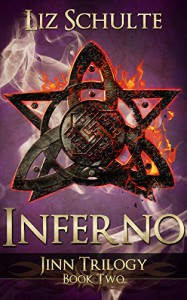 It's no secret that I'm a huge Liz Schulte fan. The Abyss books are so original - I just can't say enough good about them. Inferno is no exception. I love that with each new story the characters become more fully developed. This time around, the story alternates between Holden, Baker and Femi. I enjoyed the romantic tension between Baker and Femi and trying to guess how their relationship might develop. I also enjoyed reading Femi's perspective on the story. Her character is so fierce - I wish I had as much spunk as she does.
"I don't tiptoe around anyone." Femi flashed a grin. "I glide, bitches."
Inferno also concentrates less on Holden and Olivia's relationship, which is a nice change of pace. Holden is as conflicted as ever, though.
"I was Olivia's soul mate, the leader of the free Jinn, the one who made the hard decisions, the one who let people go, the abomination, and the savior. I was evil who strove to be good..."
Book 2 of the Jinn Trilogy ends with a major cliffhanger - or does it? Let's just say there better be a book 3!!

I received a complimentary copy of this book for the purpose of review. All opinions are 100% my own.